Henderson's Wharf Marina Tiki Hut
Dramatic sunsets. Amazing views. The Tiki Hut at Henderson's Wharf is the perfect Fells Point event venue.
We provide:
• A deck area and picnic tables (Accommodates up to 100 guests)
• A custom mahogany bar
• A 50′ Plasma TV with a surround sound system.
Host a number of events including:
• Boating groups
• Corporate events
• Excellent Venue for Crab or Shrimp Feasts
• Weddings
• Banquets
• Slip holders
• Corporate Charter Vessels
• Urban Pirates Cruise & Catering
• Luncheons
• Anniversary's
• Special Events
• Birthdays
• Holiday Parties
Please contact us to receive sample menus and pricing information. 443-582-3906
Urban Pirates Adventures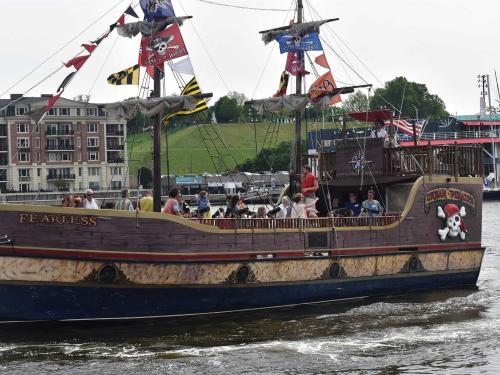 If you want to make a bigger splash, ask about the Urban Pirates Adventure. The pirate ship "Fearless" will dock at the Tiki Hut and take your guests on a one hour water adventure.
Their lively crew will get your guests laughing, singing, dancing, and playing pirate games.
To request information, call 410-732-1049 or email marina@harbormagic.com.